Posted a new holiday mpFREE of "Jingle Bells" featuring the whole band.
Welcomed aboard the latest Man Your Mama Warned You About: lead guitarist Steve Quintana.  Posted new mpFREEs of "Catnip" and "At First Sight" from EthosLive performance, as well as a new demo of "Puppy," featuring the Men.
December 2009 --Mama Warned Ya
It seemed like Cody ought to probably switch to one of those "Cody Weathers & the ___________s" names if he was going to rely so heavily upon the improvisational talents of bassist Tim Krajcar and percussionist Evan Whitacre in his return to acoustic gigging.  After soliciting input from the public, the totally rigged (but absolutely deserving) winner is:
Cody Weathers & The Men Your Mama Warned You About
Check out a couple of newly-posted unplugged videos of the trio on the videos tab ("Listen," "No One Could").
December 2009 --'Tis That Season
Help yourself to three Holiday favorites on the mp3 tab: "Joy to the World," "God Rest Ye Merry Gentlemen," and "12 Days of Christmas."  No, no, Mr. ASCAP man, you go back to law school; those are public domain!
November 2009 --Limited time free shipping on merchandise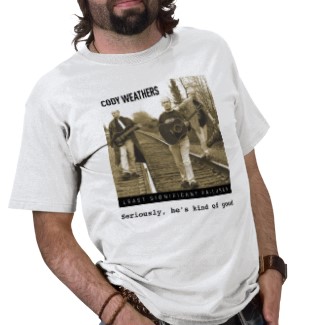 Now through Sunday 11/22, get free shipping on orders over $35 at
zazzle
with coupon code MICKEY81BDAY.  And if you
send me
a picture of you with your loot (which I will
not
repost), I'll send you a coupon code to download
Least Significant Failures
from
CDBaby
for free as a thank you.
October 2009 --LSF and Flame Cow downloads only $5 for a limited time
For the rest of 2009, we've lowered the CDBaby mp3 download price for the complete 31-song double album Least Significant Failures and the 27-song double album Flame Cow: Original Motion picture Soundtrack to $5 each.
October 2009 --Cody wants to be on your iPod
Check out the mp3 tab for all the free goodies you could ever want, including a newly-posted UFO Catcher track "Like You Do."  Seriously, there's like 50 free songs on there.
September 2009 --October gigs booked
Don't jinx it by talking about it or anything, but take a look at the calendar tab.
July 2009 --Häårdvârk mixed, mpFrees posted
Because that's how we roll: no new albums for 4 years followed by 2 albums mixed in the span of a week.  Häårdvârk is finally mixed, but its release will be delayed to allow for the completion of the booklet and duplication of the discs.  Man, that's some uncharacteristically dry copy.  Check out two new mpFrees on the UFO Catcher page ("Perfect Love" and "Get You Dirty") while I go watch a Danny Kaye marathon and get my silly back on.
July 2009 --Cinema finally released for FREE
Lest we be known as the website that cried "
Cinema
," we assure you that
Sunhouse Branch
's latest opus is indeed complete and currently available for absolutely
free
as a track-by-track mp3 download or complete-album podcast off its
album page
on this site.  Yay, us!
July 2009 --Half off one price, anyway
CDBaby
has just introduced a la carte mp3 sales, and as of right now, we've lowered the per-track cost for all songs off both
Least Significant Failures
and
Flame Cow: Original Motion picture Soundtrack
to an astonishing .50/ea.  Spectacular is as spectacular does, I always say.  But honestly, if you want to buy just one song off LSF, first check our
mp3 page
(since we are giving almost half the album away for free), then check
AmieStreet
, because it's probably around .30.  I shouldn't tell you this because a.) this announcement went from crisp and snappy to long and complicated like a freakin' pharmacy ad on TV and b.) we don't get paid as much from AmieStreet.  Anyhoo, ask your doctor if a la carte tracks for under $1 are right for you!
are around 75% complete.  The bulk of the remaining recording is lead and solo guitar work for the 16 primary tracks and 2 alternates.  This album will have a harder, more riff-oriented sound than Cody's solo acoustic work, but will still fit within the unique jazz-rock foundation of his overall writing oeuvre.  Lyrically, the new material delves into the spiritual parabolae of elation and despair and ponders "what the light reveals."  The cover art was designed by New York mixed-media artist and longtime friend, Cat Mayhugh.  Believe, dude.